Friday

13th, Saturday 14th, Sunday 15th September 2024
A special extended Tango weekend, from Friday to Sunday.
Pick & choose between wonderful 4 milongas – 18 hours of dancing – with fantastic traditional Tango music from a team of favourite DJs, and dancing on a gorgeous large sprung dance floor!
Friday night opening milonga
Friday 13th Sept 19:30 – 23:30
£12.50
Saturday afternoon  milonga
Sat 14th Sept 14:00-18:00
£12.50
Saturday evening milonga
Sat 14th Sept 19:30 – 23:30
£12.50
Extended 6
-hour
Sunday milonga
Sunday 15th Sept 14:00-20:00
£15.00
Lots to enjoy in a weekend of Tango:
Hours of dancing to the best Golden Age Tango, Vals and Milonga from a team of favourite DJs.
Enjoy considerate floorcraft, and traditional codigos such as the Cabeceo.
Savour the charming hall with a brand new sprung dance floor.
There's great quality sound from a 360° professional sound system.
Enjoy a friendly welcome and atmosphere.
Pick & choose the milongas…
No need to reserve your places…
No need to bring a dance partner…
Pay in advance or when you arrive
We make it as easy as possible for you at Septonathon; there's no need to book in advance, just come along when it suits you!
Pick & choose the milongas…
No need to reserve your places…
No need to pay in advance…
No need to bring a dance partner…
Pay in advance (discounts available until 31st August)…
Or just pay when you arrive
click here to pay in advance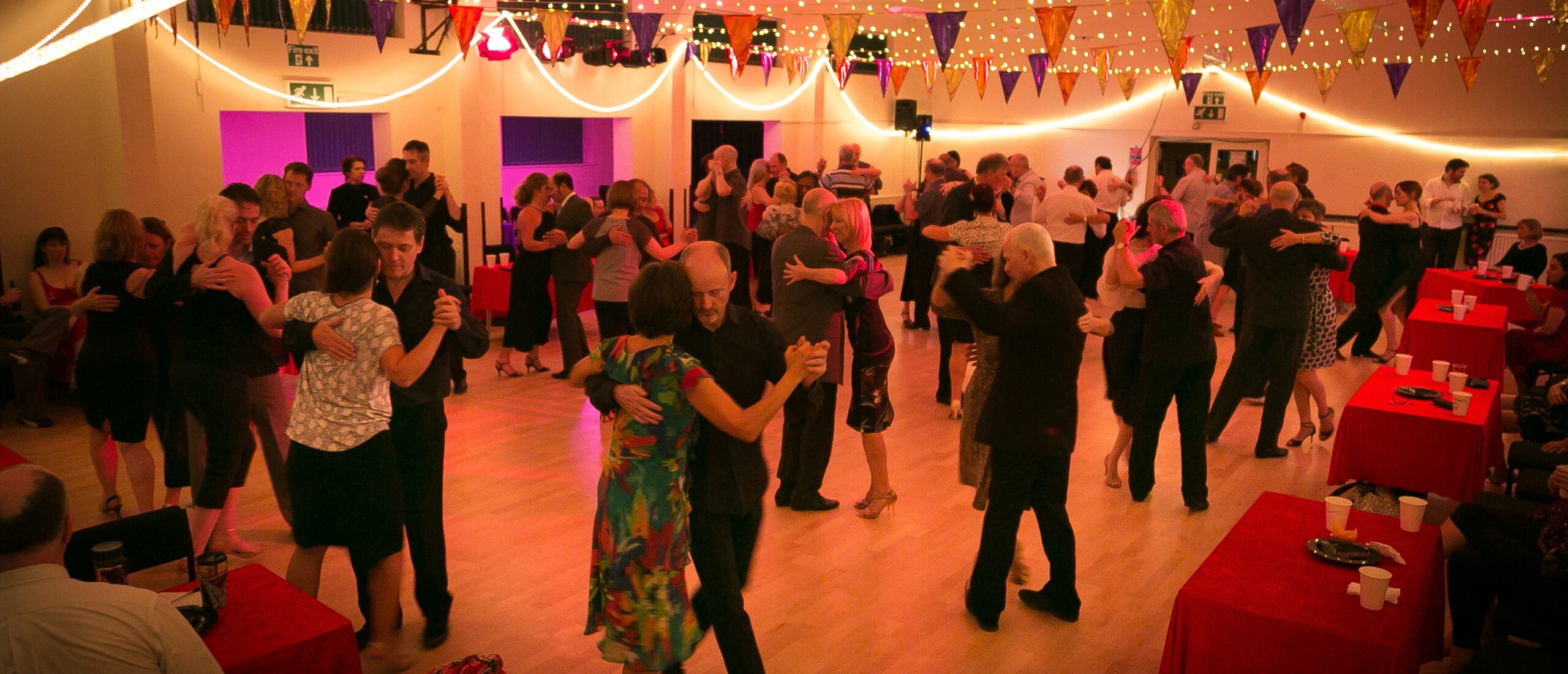 Old Windsor Memorial Hall, Straight Road, Old Windsor, Berks, SL4 2RN
Brand new, sprung, maple dance floor
Loads of free parking
Excellent sound system
Free Wifi
Easy to reach from M4, M25 or M3
The Tango music at Septonathon is always traditional 'Golden Age' recordings, carefully selected and played in continuous tandas with cortinas TTVTTM.
There are no interruptions for Salsa, Jive, announcements, show dances, birthday valses, or Chacarera. Just non-stop Tango dancing to the best music.
Our team of expert DJs will keep you dancing all weekend!
Comments from previous Septonathon events
There was such a happy buzz. Everyone seemed to be smiling
Many thanks once again Charles and Sarah, a truly delightful event
What a wonderful way to spend a weekend! Many thanks Charles & Sarah for putting it on and making us feel welcome and (as far as possible) safe. And many thanks to everyone who came along. It wouldn't be the same without you (us!) would it? Etonathon is in my diary
I had the best time, a great success!
Just wonderful! Thank you so much!
Thank you Charles, Sarah and everyone else for making the weekend such a success. Had a fabulous time as always!!!
It was fabulous! Thanks so much Charles and Sarah, and everyone… I'm already looking forward to the December edition!!
Thank you two for starting up again and tempting in such a tremendous throng of tangueros , that put at ease my trembling, un-danced feet and left me totally happy from tip to toe! Looking forward to the next one
Thank you Charles and Sarah, and everyone who made my afternoon special . Loved it.
Thankyou Charles Long & Sarah Stribley for your organisation ! and Charles also for your music and tandas… Great to be there for part of the event! Thank you to the beautiful Leaders who shared their embrace with me and all the wonderful women who conversations entertained me… great to see the community together again
I had a fabulous time it was great to be back on the dance floor. Thank you Charles and Sarah for organising
It was so good to be back, to dance, to listen to wonderful music, and even better to catch up with friends. Thank you to everyone, but a very big thank you to Charles and Sarah for making it happen
It was proper luvverly, thanks everyone
Wonderful weekend. Thank you guys!
I had a lovely time and you both go to such effort to make these occasions special! X so Thank you!
Thanks to you and Sarah for putting on such a lovely weekend of tango
Thank you so much for the lovely weekend. I was very nervous on Friday when I first arrived at the venue, but I had a wonderful time there.
It was a great event, as always is!
Fantastic - great music, great dancing, delicious cakes - thanks Charles and Sarah!
just brilliant! Lovely atmosphere, music, and followers. I had such a good evening - thank you.
Hurty feet, happy heart. Schplendiddd Septonathon. Thank you everyone.
A wonderful weekend dancing! Thank you and all my lovely partners.
Well that was a rather splendid day. Thank you, thank you, thank you....
Charles and Sarah - thank you once again for a wonderful afternoon yesterdays. Fab dances with fab partners; and fab music too!
Thank-you Charles and Sarah for a wonderful weekend
Thank you everyone for fantastic time in Windsor!
You've got the formula just right, which is why I think you run one of the best milongas anywhere and make tango in the UK richer for it... Sincere thank yous again from a delighted punter
That was a wonderful weekend: thank you Charles, Sarah, DJs all and fellow dancers!
Kate
What a fabulous atmosphere..... feeling content and happy
Christine
Thank you Sarah, Charles and Torin for a lovely weekend of tango and a monumental effort of work.
Bob
Great event. Thank you all very much.
Mary
Fantastic event. Thanks so much for your hard work. We all had a wonderful time
Thelma
It was a joy from start to finish. You make a great team
Jo P
Thanks to all Septonathon's music makers and dancers for a fab weekend
Jo
Thank you for a great weekend of dancing, I had a thoroughly good time and met lots of lovely dancers from far and wide.
Miriam
Thank you Charles and Sarah for another fabulous event. Loved it as always with delicious cakes Sarah!!!
Sharon
A really lovely event; fab djs, friendly dancers, warm hosts ... and lemon polenta
Felicity
Thank you both for creating such a lovely event once again, and to you Sarah for the wonderful home made cakes that are just too good!
Fiona
Ali Thank you Sarah and Charles for an amazing event again and again and again
Ali
Great music, beautiful decoration of the hall and enjoyable to see a lot of familiar faces
James
I had a wonderful time: good venue, great music from all DJs …, high dance standard … and friendly people. The floor craft and courtesy were impressive – much better than in Sydney. People generally asked permission to enter the line of dance and (mostly) stayed in their lanes. I will definitely have Thames Valley Tango on my "to do" list when next I return to the UK.
Joseph
Looking for places to eat during Septonathon? Try these:
Times and other details of Septonathon may change as we work to create the best event possible.